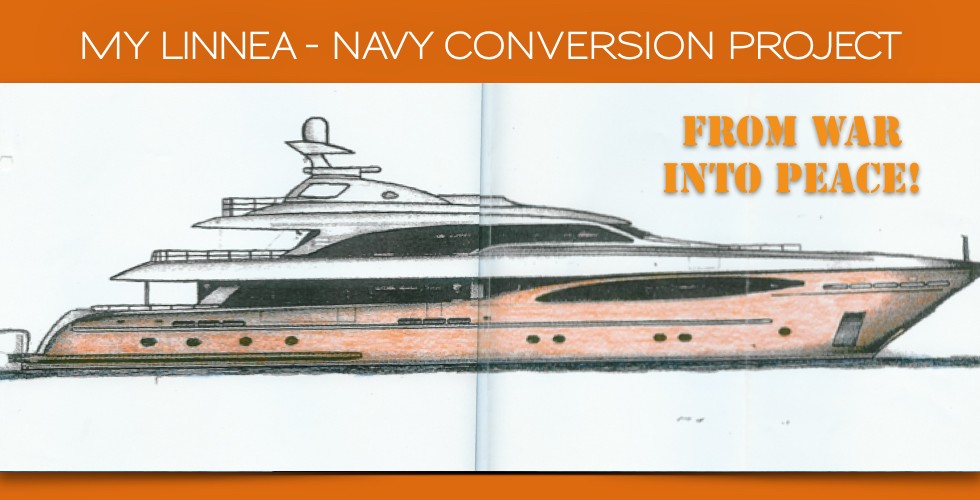 41-meter conversion yacht
YES-yachts.com presents MY SVEA / LINNEA a wonderful CONVERSION-Project to finish just as YOU like!
This military fast vessel has been built in the 1980ties and was used by the Swedish navy. She is a really really SOLID steel hull and now located at the shipyard. All system-checks will be completed soon – as we already worked on her 4 sister-ships in our possession (generators, water, waste, electric, steering) are still working great.
Before the conversion-sale the weaponry had to be demounted, the interior military commands are nearly still completely existing (see pictures).
Now our design team and naval architects are planning to realize your dreams, move walls and most of the installation – UPGRADE this strong vessel into a brilliant private mega-yacht by adding several new decks for the price of normally a much smaller one. The conversion can start immediately – all vision are completely worked out and waiting for your personal requests.
See the attached pictures of the vessel's current status and what we plan to make out of it!
The conversion-yard, our naval architects and our interior design team are willing to full-fill YOUR DREAMS in less than a year and bring her now to the most glamorous chapter of her sailing life.
Go for this amazing project and we at YES-yachts.com will assist you to accomplish this beautiful mission to perfection – just as you like.