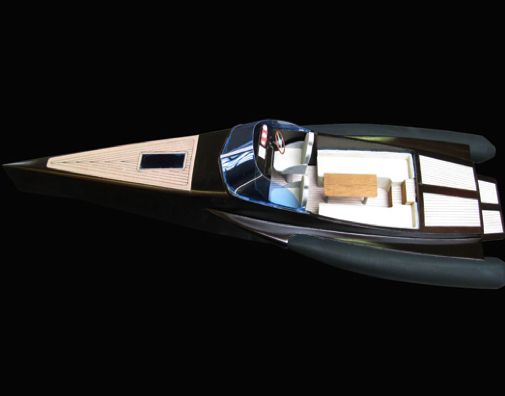 The Prototyp of the hyTender 28 is under construction now. The mayor innovation is the new hybrid propulsion system.
The " modern interpretation " of the good old and antique Riva styled age goes green and stylish! A completely new concept situated between the well known classic Chris Craft and traditional Frauscher mahogany boats and the fast Donzi & Cigarette speed boats with surface drives.
It's fields of usage are wide, beside of the usage being a tender and fun toy on your private superyacht or megayacht you are able to use it as an exclusive water taxi or as your main fast and trendy rib. The electric propulsion makes it even usable on some special lakes and environmental protected areas. Green propulsion is the secret!
Two lightwight supercharged engines are working on counter- rotating surfacedrvives, for an most efficiant drive.
For short passages or manovering in harbours, two electric motors are taking over for silent and precise manovers.
As soon as the combustion engines are turned on the batteries get charged and the 8,5m boat accellerates passing 40kn.
The decklayout and the forward cabin interior can be arranged and designed to the individual needs of the owner. The cabin is big enough to relax and make your self a cup of coffee.
A foldable canvas roof that protects from sun and rain above the seating area is also available.
The presentation is planed at the beginning of the season 2010 in the media habour of Düsseldorf, where the boat is situated
throughout the whole season.