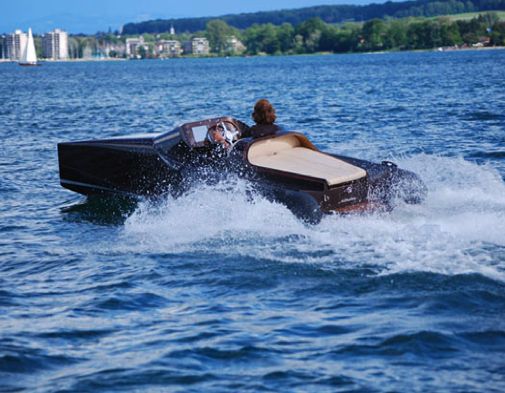 The ELECTRIC eTender 18 is the electrified version of the normal Tender 18.
The " modern interpretation " of the good old and antique Riva styled age goes
new concept situated between the well known classic Chris Craft and traditional Frauscher mahogany boats and the fast Donzi & Cigarette speed boats with surface drives.
It's fields of usage are wide, beside of the usage being a tender and fun toy on your private megayacht you are able to use it as an exclusive water taxi or as your main fast and trendy rib. The electric propulsion makes it even usable on some special lakes and environmental protected areas. Green propulsion is the secret!
The extraordinary properties of the hull, making sportive cruising even under electric power possible.
The jetdriven boat accelerates fast and reaches planing mode early.
Speed and drivetime are depending on the choice of the batterypack and the weight of the boat.
The perfect combination between a small fast boat and a luxury toy! Fits perfectly aboard of your superyacht or on a normal trailer for single usage at the seaside or a lake.