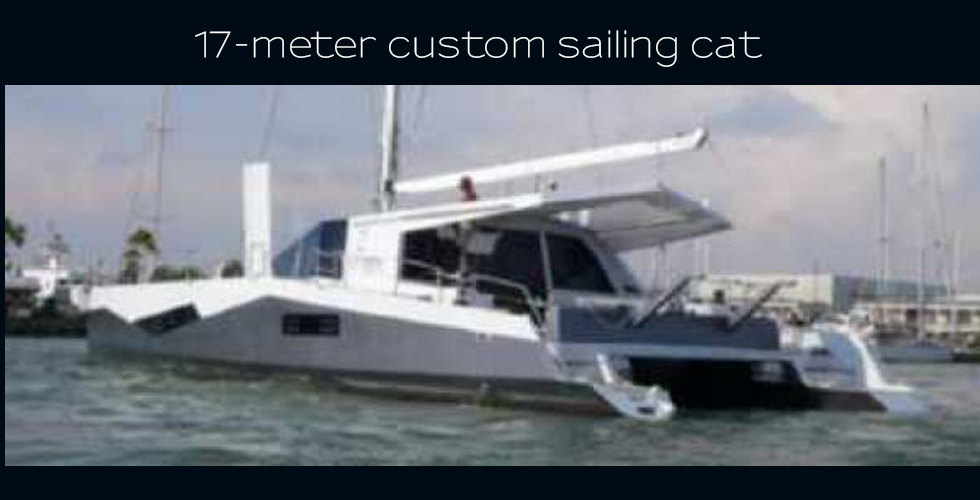 17-meters custom made sailing catamaran
Make: Custom
Model: Catamaran D-555 Length: 16.764 m
Price: EUR 1,400,000
Year: 2009
Condition: New
Location: Italy
Boat Name: Diamond
Hull Material: Aluminium
Max Draft: 2.5 meters
Number of Engines: 2
Fuel Type: Diesel
Introducing the "Diamond"
The catamaran D-555 is a 55ft. long sailing cat completely built of aluminum. Originated by the intuition of an Italian designer and his father as the shipyard and ship owner of the prototype. D-555 has taken shape thanks to the genius of the architect of his son, manager of a well known design office.
The innovation used by the designes is represented by the materials utilized and by all the relative technical and functional applications. These guarantee maximum handling and sea keeping with dynamic characteristics and top acceleration. Moreover, thanks to the dual engine (2x Yanmar 56hp SD) and the two centreboards, the craft proves to be of excellent performance.
An extremely important detail for sea lovers is security. It is indeed a factor of great importance and covers two
different fundamental aspects. First of all, the so called passive security, D-555's structure which renders it practically "unsinkable" complete with 4 watertight compartments for each hull as well as the use of two lifeboats with crew access even in the case of an overturned boat and in case of emergency with the aid of 2 skegs which reach shallow water in complete security. The second aspect is the active security, guaranteed be the simplicity of manouvering the boat assured by a well protected bridge and by cockpit counter manouvers on 5 winches.
Measurements
Length Overall: 16.535 meters
Length at Waterline: 15.773 meters
Max Bridge Clearance: 22.0 meters
Max Draft: 2.5 meters
Convertible Saloon: No
Fuel Tanks Capacity: 800 Liter
Fresh Water Tanks Capacity: 900 Liter
Number of twin berths: 2
Number of Bathrooms: 2
Number of Engines:
Engine Model:
Engine Hours:
Verdränger: 17000
Includes Bowsprit: No
Beam: 8.007 meters
Min. Draft: 1.1 meter
Dry Weight: 17.000 kg
Fuel Tanks #: 1
Fresh Water Tanks #: 1
Number of double berths: 3
Number of Cabins: 4
Number of Heads: 2
Engine Make: Yanmar
Fuel Type: Diesel
Engine Model: 56HP SD
Engine Hours: 30